What if a farmer could monitor animal health up to eight times a day using sensors, instead of calling out a vet to take blood tests on their farm every two weeks to get a similar set of data?
Founded in 2018, the UK-based startup Chordata is creating the world's first integrated health microchip and ear tag for dairy cows and beef. In collaboration with Alltech, Chordata Dairy will provide real-time information for fertility, energy status, stress and lameness, as well as early detection and alerts for condition management, without blood extraction. This ensures a more productive, healthy and sustainable herd. The health chip system is currently in testing and is expected to be market ready by the second half of 2023. Chordata has also developed a health chip system for companion animals, which will be launched in a similar time frame.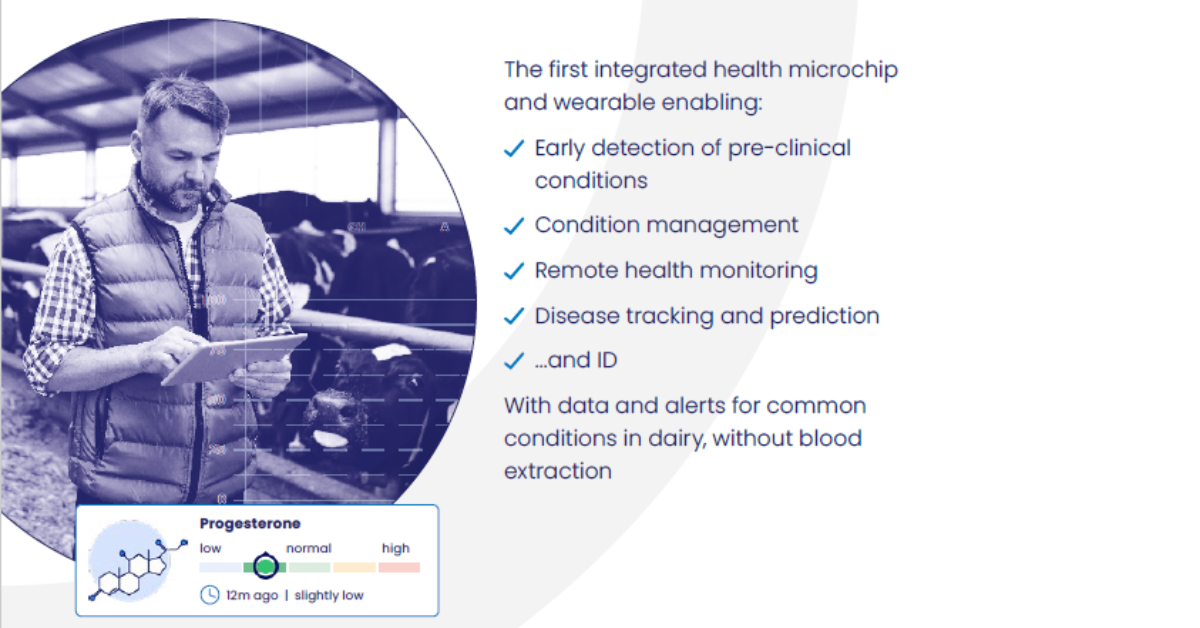 Meet the startup
Chordata was founded by three seasoned businessmen with a common love: pets. Peter Curtis, co-founder and CIO, has 15 years of experience in machine learning and artificial intelligence. Alastair McMahon, cofounder and COO, has a 20-year career in sustainability, Internet of Things, smart cities and public health. John Wisbey, cofounder and CEO, has spent 30 years in strategic leadership of global brands, corporate business development and commercial partnership at various publishing and marketing services agencies.
The trio has always been interested in GPS tracking of pets. Initially, they saw an opportunity to improve pet identification chips by designing versions that could collect and analyze health data. Now they have expanded the microchip concept for use in beef and dairy cows. Their team has also grown to 19 members as well as 12 advisors and consultants. One of those advisors is Matthew Smith, vice president at Alltech, a global leader in the animal health industry.
Alltech also played a role when the Chordata team was ready to move forward with their idea. Wisbey, Curtis and McMahon approached the Pearse Lyons Cultivator (PLC), which offers startups the opportunity to develop a commercial pilot with Alltech – PLC's parent brand – or one of its partner companies. After weighing the benefits offered by several companies, Chordata selected PLC as their route to market because of Alltech's primacy in research, science, and technological advancement.
How Chordata's technology can help users manage what happens on the animal level and the herd level
All farmers monitor energy status, fertility and lameness daily to ensure a productive, healthy and sustainable herd. In the absence of a single integrated system able to measure these conditions in real time, they rely on observation, judgment, proxies or expensive blood-based testing. Options such as these can put animals at risk and reduce yield.
Chordata addresses this gap by:
Gathering accurate data from an embedded microchip and wearable ear tag

Analyzing the data in the cloud

Presenting practical insight to users
The Chordata microchip is implanted in the neck area of a cow, below the skin. By analyzing the fluid around the chip, Chordata's sensing technology is uniquely able to measure biomarkers for fertility, energy status, stress and internal body temperature. That data is combined with data from a microchip connected to a wearable ear tag; this microchip monitors the cow's temperature and movements, including checking for lameness. A huge volume of data is transferred from the microchip to the ear tag, which is connected to a digital cloud. No additional server or Wi-Fi system is required on-farm, keeping this technology simple and affordable as well as highly accurate.
Chordata technology is as accurate as blood-draw testing, but it works remotely, electronically and more regularly – up to eight times a day – all without detrimental effects for the animal. This level of insight and monitoring has never been available to farmers before.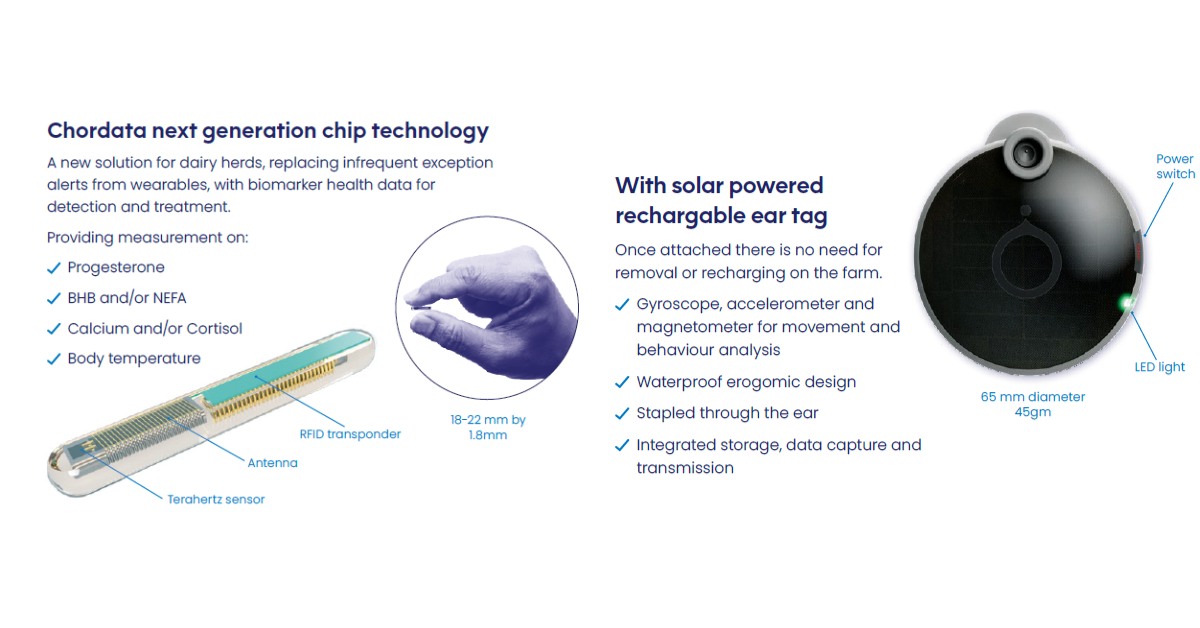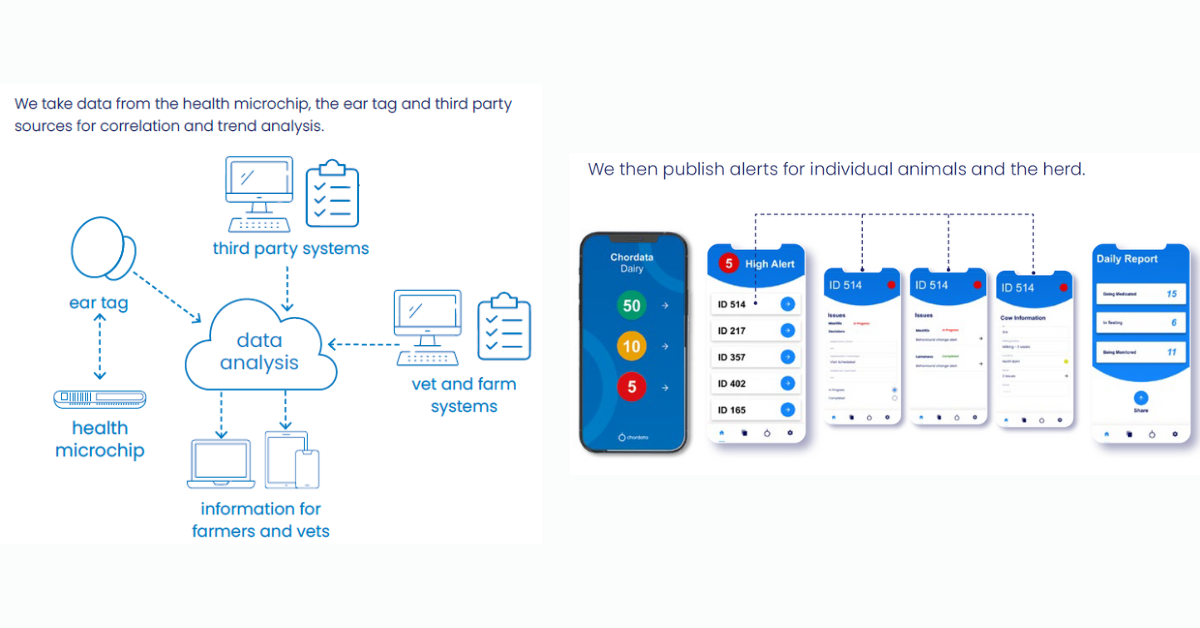 The health chip system not only gathers pinpoint-accurate data on individual animals but also collates and analyzes it on a herd basis in rich detail. The data analytics platform generates valuable insights and then delivers them in formats that are specifically tailored to different user needs. In this way, farmers only get the alerts and information they need, but they can designate their vets and nutritionists to receive more detailed technical insights that enable them to provide more detailed and timely advice.
The positive implications of using sensors in ag-tech
In addition to using these health chip insights to drive increased productivity, farmers will also receive data that can be used to verify the sustainability and high welfare standards of their farms. When sustainability impacts can be measured in such detail, dairy and beef production can provide better solutions to address the challenges of food security and climate change.
Overall, the detailed data sets, high level of accuracy, and actionable insights generated by the unique Chordata health chip system open a myriad of opportunities to improve animal welfare and provide nutritious food while protecting the planet.
Download Chordata's Dairy brochure here.